the fifty nine stellations of the regular icosahedron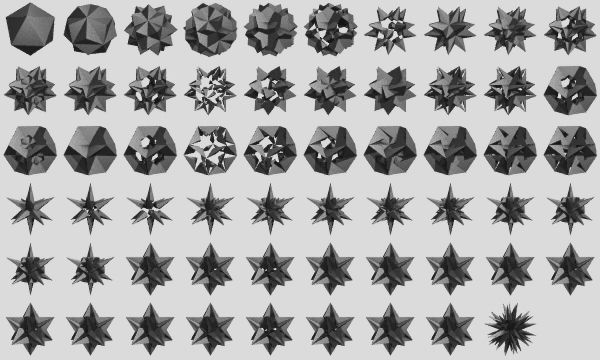 Here are enlargements of some of these polyhedra. We already met a few of them: the first stellation (#2), the compounds of five tetrahedra (#17), five octahedra (#3) and ten tetrahedra (#12), a dodecahedron excavated by 12 pentagonal pyramids (#22), then the great icosahedron (#47), the #18, the #13 is connected only by its vertices, the #33 is composed of separate pieces, and finally the complete icosahedron (final stellation #59).

To learn more about the stellations of the regular icosahedron, visit the site from where these pictures come.
Some examples with LiveGraphics3D are presented on an other page.
---